St. Patrick's Day Parade
Details about the parade
When is the Parade? The 18th Annual St. Patrick's Day Parade will take place on Saturday, March 11, 2017, beginning at 1:00 PM.

What is the route of the Parade and the best places to view it? The Parade Route begins at Third & Rock Streets in downtown Little Rock in front of Dugan's Pub, travels east on Third Street, turning north on Sherman Street, then west on President Clinton Avenue through the River Market District. The Parade then crosses the Arkansas River via the Main Street Bridge, passing Cregeen's Irish Pub and traveling through the Argenta Arts District, ending at Sixth & Main Streets in North Little Rock. The three best viewing and performance areas for the Parade are Third Street, the River Market District and the Argenta Arts District.

What groups are headlining the 2017 St. Patrick's Day Parade? Parade headliners will be announced in early 2017.

What other entries will the Parade include? The Parade will also feature clowns, Irish Wolfhounds, antique cars, decorative floats, and more!

Who is the Grand Marshal of 2017 St. Patrick's Day Parade? The Grand Marshals of the 2017 Parade are long-time ICSA members Anne & Michael Downes.

Will there be any entertainment after the parade? "Dancing at the Crossroads" will take place on the grandstand following the Parade. This event will feature musical performances by marching pipe & drum bands and traditional Irish dance performances by the McCafferty School of Irish Dance and the O'Donovan School of Irish Dance.

What organization will benefit from the 2017 St. Patrick's Day Parade? To be announced at a later date

Which organization coordinates the Parade? The Parade is coordinated by the Irish Cultural Society of Arkansas (ICSA) as a fun, free family-oriented community service event for the residents of central Arkansas and is intended to celebrate cultural diversity in Arkansas. Founded in 1996, the Society, which is a 501(c)(3) not-for-profit organization, provides programs demonstrating aspects of the culture of Ireland for the education of Arkansans, many of whom have ancestors from one of the seven Celtic nations.




What is the weather forecast for Parade Day? Check back closer to the day.
Parade Route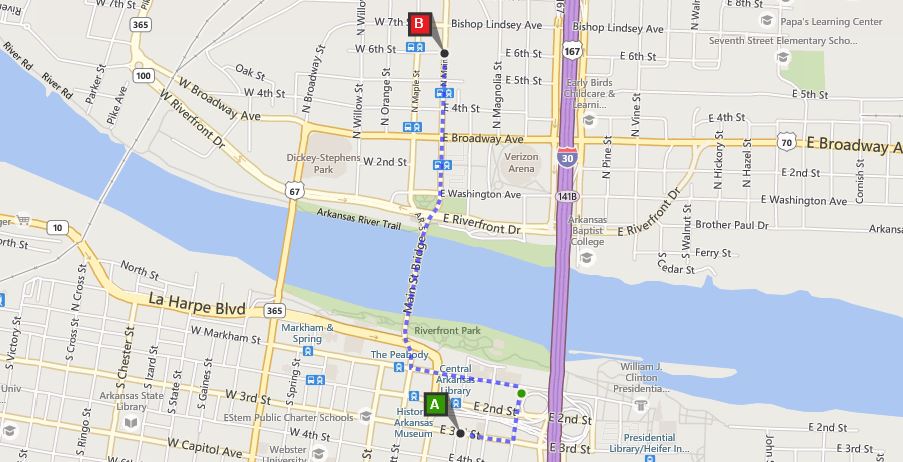 About Saint Patrick

St. Patrick's Day has been celebrated in the United States since the early 1700s. March 17th is honored as the anniversary of the death of St. Patrick. Traditionally, St. Patrick's Day is celebrated as a holy day in Ireland. Early Irish immigrants to the United States took the day to celebrate their roots and their homeland. Today, everyone is Irish on St. Patrick's Day.St. Patrick was the son of a Roman official, Calpurnius, living probably in Wales. As a boy of sixteen, Patrick was captured by raiders and sold to an Irish chieftain, Milchu. He spent years in slavery. He escaped following a dream in which a voice told him a ship would be waiting to take him to his own country. After a journey of 200 miles he found the ship, and was eventually able to return to his family. One night, in a dream, he heard voices calling him back to Ireland. The year 432 is the traditional date for Patrick's return to Ireland.Irish annals give the date of Patrick's death as 493, but an earlier date of 461 seems more likely. Tradition says he died at Saul and was buried at nearby Downpatrick.

(From A Little Book of Celtic Saints by Martin Wallace, illustrated by Ann MacDuff)